Happy Friday!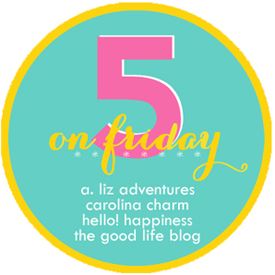 *one*
While Mother Nature may have hit us with some nasty stuff for a while, it has been beautiful these past two weeks! So thankful for this gorgeous weather and all the outside time it brings!

*two*
People keep asking me if I've had any crazy sort of cravings and the answer is: not really. At the beginning I could really only stomach sushi (not the raw kind!) then I loved strawberry applesauce (but, who doesn't?) and there hasn't really been anything else to stand out. It more comes that I have to have something right then and there and then the craving passes (hello, cream soda and orange creamsicles). Any other pregos have cravings?

*three*
We have ants. I shudder even thinking about them again. We noticed them Wednesday evening while cooking supper and I went into immediate attack mode. We managed to kill all the ones we saw (thanks, Lysol spray!) and I got ant traps yesterday for any lingerers. Bleck!

*four*
Um, how is it May already?? Not that I'm complaining because that's one month closer to baby, but still. Holy cow, this year has absolutely flown by!

*five*
Hellooooooo, fellow Starbucks fiends! Half-priced frappuccinos are back at Starbucks from 3pm-5pm until May 10. You're welcome.