Happy Friday one and all! Today I am linking up with Adventures of Newlyweds for Friday's Letters.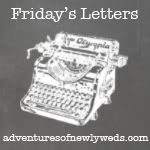 Dear December,
Thank you for finally arriving! I was beginning to think you would never get here and we would be stuck in the depths of November forever. I am excited for you and all your Christmas joy.
Dear Davido,
You are a rock star. The end.
Dear massage,
I am stoked for you tomorrow. The opportunity to rest and relax will be stellar after this long week back at school.
Dear Crossfit Competition
, Please do not kill my husband tomorrow. I really enjoy him and would like to keep him around a bit longer.
Dear peppermint
, If it were not for your superb flavoring I probably would have lost a few breakfasts along the way. Thank you for settling my tummy every single morning while this sweet baby does her thing in there!
Happy Friday!!