Happy Friday, folks!!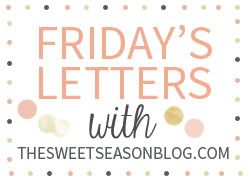 Dear Nashville, Oh, how you have sucked us in to your sordid, twisted, musical drama. I don't know what we're going to do when we finish the first season on Hulu!
Dear Daisy, Thank you for being so good when we took pictures last weekend. I know it was crazy hot, but you were a rockstar. I'm pretty sure you had the best pictures of any of us.
Dear Jen Lancaster,
Thank you for continuing to crack me up with your crazy antics.
Tao of Martha
has been a great reminder that I'm not alone in the world when I mess up yet another "easy" recipe/craft/project.
Dear reading friends,
Looking for a good book to read this summer? Look no further! This
list
of 14 books being made into movies has quite a few on here that will keep you hooked for hours! My personal fave?
Divergent
, but I'm excited to read a few of the others too!
Dear Davido, You are one pretty stellar dude, you know that? Thank you for your continued patience with my crazy.