Happy Friday!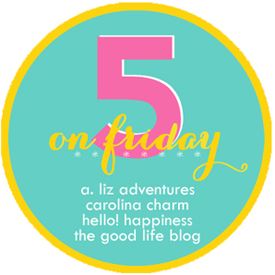 *one*
Hooray for the end of the Olympics and the return of regular TV shows! And not just any TV shows, Scandal! Any other fans other there? Where is Maya? What's Eli going to do? What about Olivia and the Prez??
*two*
Any other pregos out there? If so, check out
Pregnant Chicken
. This week's update informed me that Nugget is about the size of an iPhone-what a great comparison! I mean I love The Bump's rankings of food, but food can vary from store to store. An iPhone is an iPhone forever. And Nugget is about the size of one right now:-)
*three*
Did you read and enjoy "The Hunger Games" series? What about the "Divergent" series? Then, you have to read Marie Lu's "Legend" series! It has the dystopian theme with love and fighting and everything in between. A great read!
*four*
Heyyyy there, 2-hr delay turned into an optional teacher workday. I thoroughly appreciate the extra time to sleep and catch up on school work. And on a Friday?? What could be better??
*five*
Spring-like weather is coming our way again this weekend and I couldn't be happier! After this icky day we're supposed to hit the 60's with sunshine. Love it!