Happy Friday!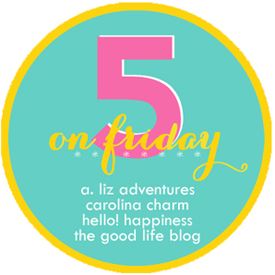 *one*
And the weather craziness continues. By this point in the year we're usually wearing flip flops more than boots, but the same cannot be said this time around. We had a delay earlier this week for icy conditions and the weather peeps are calling for more ick next week. I'm not sure how much more I can take!


*two*
115 students turned in projects yesterday. 35 of those projects have 10 parts and the other 80 have 4 parts. You do the math.

Oh, and they took a test too. With short answer questions.

The solution? Lots of grading for Mrs. Mobley.

*three*
Have any of y'all ever heard of Sharon Draper?? She is a fantastic young adult author who writes very real stuff that our students absolutely eat up. Well, she's coming to visit our school soon! We are so excited to host her and hear her speak!

*four*
We officially booked our Spring Break trip! Here we come, Charleston!

*five*
My students and I have been jamming to the Beach Boys on Pandora this week after reading a reading comprehension on their history, and we are all loving it! Puts us in the perfect warm weather mood and gets us all ready for Spring Break. Too bad it's a month away. . .