Happy Friday, folks!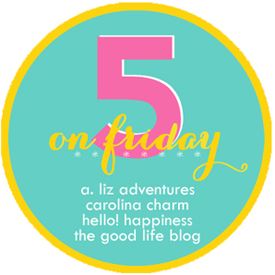 *one*
Seriously, Teeter?? How are you already putting out Easter things? Did you know that Easter is super late this year?
*two*

How beautiful has the weather been these past few days?? I am LOVING the fact that it is hitting 70 and staying there! We're just going to ignore the yucky cold they are calling for next week. . .

*three*
No one can ever say that Nugget and I aren't getting our daily recommendation of fruit! My kids always make fun of me, but they're easy to eat and super yummy. Oranges and the squeezeable applesauce have become my go-to snack at school.
*four*
February is a busy month for appointments for me. A few years ago I decided to schedule ALL my yearly appointments (eye doctor, dentist, vet, etc.) to get them out of the way. Stupid me forgot that those appointments would be back in a year! Argh! Toss in the regular OB, the high-risk, and the kidney doc and there go all my afternoons. Fun times all around!
*five*
Remember last week and how obsessed I was with Gillian Flynn's Dark Places?? Well, I finished that one and downloaded Sharp Objects and finished in a day! Anyone have any other suggestions similar to her?? I'm not normally into the creepy stuff, but it's so twisted and deep I can't put it down!