Happy Friday one and all!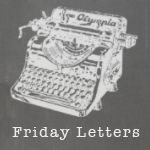 Dear cooler mornings,
Welcome! I love being able to let the dog out in the morning and not immediately start sweating from the mugginess. I hope you stick around for a while before the beast of actually COLD mornings shows up.
Dear iPhone 5,
As excited as I am for your arrival, I'm going to let you do your thing for a bit before I jump the gun. I figured I'll wait until all the cool techie kids figure out what you can do (and if anything is wrong with you) before I bite the bullet and upgrade. I would appreciate it if you were totally awesome with no issues though, because then I could possibly convince my husband to join the 21st Century and get a smart phone!
Dear neighborhood yard sale,
Last year you blew us out of the water with all the stellar things you provided for us. I mean a solid oak dining room table for $50?! You can't beat that! Please don't fail us!
Dear students,
I know it seems that someone dies in every single story we read in class. That's because someone does. I know that sounds morbid, but would y'all really be interested in the story if everything was happy-go-lucky with no conflict? Nope. Y'all would be fussing about it being boring. Enjoy the fact that it's fiction and just go with it:-)