Hip hip HOORAY for Friday!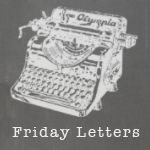 Dear iPhone 5,
Why are you still not here?? Do you know how frustrating it is to log into AT&T and see "pending shipment" day after day?? It was promised that you would arrive within 24-48 hours and not only are you not here after a week, but you haven't even shipped! Hurry up, please?!
Dear pumpkin flavor,
Thank you oh so very much for showing up in just about every thing. I love you in my coffee and in my cookies. I adore you in my pop tarts and on my biscuits. Just keep on doin' your thang.
Dear NC State,
Want to share what's going on? I mean honestly, fellas. This continuing to play pee wee football against the big boys is just pathetic. How about stepping up your game for FSU this weekend? Your fans would greatly appreciate the effort!
Dear Raleighwood,
We're coming!! Please prepare accordingly:-)