Happy Friday, folks!!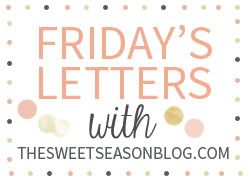 Dear summer,
Welcome.
Dear summer storms,
Though you kind of crimped our style at the Brad Paisley concert last weekend and your power outage almost ruined supper, you sure can be fun. How about knocking the force down a smidge?
Dear beach,
We're on our way! Keep those waves rolling, the sun shining, and the sand toasty!
Dear Davido,
I love how completely and totally perfect you are for me. I love that you challenge me to be a better me. I love that you never let me settle for just okay. I just love you to pieces!