Happy Friday, folks!!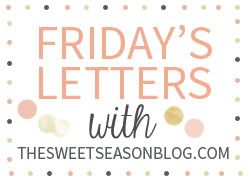 Dear Suzy Subaru,
You sure are giving us some grey hairs this week! Between the pulling on the interstate to the tire tumor, you are giving us a run for our money. If I didn't know better I'd think you were
trying
to end up in car heaven. . .
Dear summer vacay,
I am LOVING this sleeping in, running errands, cleaning our house for the first time in eons, napping, so on and so forth. I could get used to this. . .
Dear Davido,
Sorry about the onslaught of house chores. The good news is our house is going to look like it popped out of a magazine by the end of summer-yay house projects!
Dear Crossfit,
Whoooeeee you have made me sore in places I didn't know could be sore. I love the workout but would really appreciate being able to get out of bed and get dressed in the morning. Appreciate it.