Happy Friday one and all!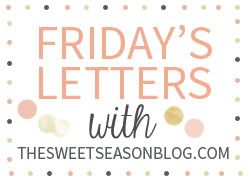 Dear Daisy, Nobody likes when you refuse to go on walks then walk around the house whining unceasingly because you have so much energy. Nobody.
Dear ladies,
Need a new reading plan? Look no further!
#SheReadsTruth
is an incredible group of godly women who write heart-opening commentary based on different books/series in the Bible. You will regret it if you don't start reading, trust me.
Dear students, It's only been two weeks and you have already stolen my heart with your humor and love. Be gentle because this mama bear is already watching out for her kids!
Dear birthday, You were pretty awesome but I hate that you had to go so soon. Already looking forward to your return!
Dear Fall, Heyyyyyyy. After a monsoony summer we are ready to welcome you with open arms. Bring on the Pumpkin Spice Lattes, the scarves, the football, the falling leaves, and fairs! We're ready for ya!