Happy Friday, folks!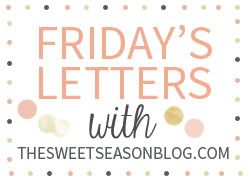 Dear Fall, Oh, how wonderful you are! These cooler temps and beautiful days can stick around.

Dear ios7, You are totally tripping me out, but I love it. You are beautiful and awesome and fun and all sorts of things.
Dear Twitter peeps,
Who is your favorite account to follow? Don't have one? I'd like to introduce you to the funniest character on Twitter,
Honest Toddler
. Start following now. You won't regret it, I promise.
Dear Rue La La,
I don't quite know what to do with you. I love all the ridiculously awesome sales you have, but if you continue to tempt me like you have I'm going to end up in the poor house! Many thanks for offering these gems for $49.50 instead of their regular price of $198.