Happy Friday, folks!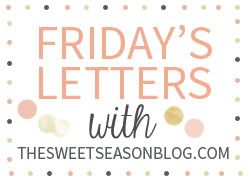 Dear Food Truck Rally, I am SO excited for you. I kinda fell in love with your concept when I heard about one in Raleigh. The fact that there is one just a hop, skip, and jump away from us has me giddy with excitement! I will be fasting all day in preparation to pig out on you.
Dear iphone 5s, I can't wait to meeeeeeet you! You are scheduled to join the fam this afternoon-wahooooo!
Dear David, I love you. You are wonderful and amazing and superb and any other similar adjective that exists.
Dear allergies, I am done with you. Donezo. Caput. See ya later, alligator. Hit the road, Jack and don't you dare come back! I am so tired of clawing my eyeballs out and sneezing more times than I can count.