Happy Friday, folks!!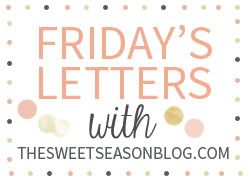 Dear 5K,
You scare me. You are the first race I have participated in since last year. My goal last year was to run the entire thing, and my goal this year is much the same. So much has happened since that last race. I will be pleased if I can run you without stopping.
Dear Spring,
Keep that beautiful weather coming! The fact that I was out in shorts and a T-shirt on Tuesday warms my heart.
Dear readers,
Thank you for your continued support with everything going on in our lives. We really appreciate the prayers for us and for my sweet sister, Mandy. We truly believe in the power of prayer and know that God's hand is in all of it.
Dear community group,
Thank you for creating a safe place to share. Your support and love continue to overwhelm me (in a good way). Thank you.
Dear Starbucks man
, Thank you for the free drink. I'm sorry the coupon code did not work (who knew Harris Teeter Starbucks stores had different registers?!), but I really appreciate your generosity. I hope your day gets better!