Happy Friday, folks!!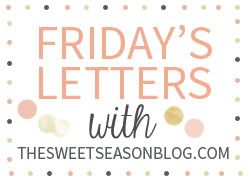 Dear Spring Break,
You are the light at the end of this crazy train tunnel. Cannot wait for your arrival next Friday!
Dear Mother Nature,
You wanna explain why you have been so out of whack?! I mean 70 last Saturday then a steady drop to the 30's yesterday. Come on, you're killing me with this.
Dear NC State,
How about a win today? You always surprise us, so maybe if I root against you then you'll win? The logic of an NC State fan. . .Watch
this
for a some truth about our unwavering endless support!
Dear prayer warriors,
THANK YOU for all the prayers for my sweet sister, Mandy. Her
biopsy
came back normal!!! I'm not sure that has ever happened! It's amazing what God can do through our prayers!