Happy Friday, folks!!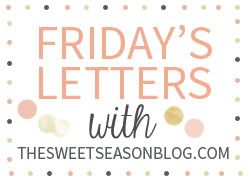 Dear testing, Please go away. All my poor little babies (and my little babies I mean 8th graders bigger than me) are stressed to the max! You are giving them cold sweats, sobs, and stress no child should ever experience. Just vamoosh!
Dear readers, I am in dire need of book suggestions! It's looking like my summer will be full of reading by the pool and I would love to hear your suggestions!
Dear David, Thank you for being the Godly, patient, loving fellow that you are. I appreciate you and your support more than I could ever put into words.
Dear 3 day weekend, How you doin'?
Dear TJ, I really hope they release you from Marine camp (aka TBS) today! We all miss our Boo-man!