Happy Friday, folks!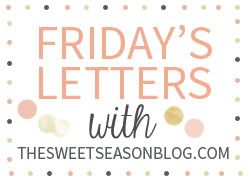 Dear students, Though we may have our moments I have to say how thankful I am for y'all. Your warm hearts, hysterical senses of humor, and genuinely positive disposition is such a great way to go through each day. Thank you.
Dear David, I apologize for being so cranky. My b. It's been a long week with lots of extra stuff. I have high hopes for next week!
Dear foot, What's up with this dreadful pain whenever I walk or put pressure on you? Ain't nobody got time for that. I've got a 5k tomorrow morning that I'd really like to finish!
Dear readers, #teacherproblems