Happy Friday, folks!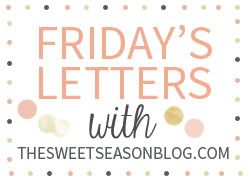 Dear Lord, Thank you for grace and new mercies each day.
Dear tastebuds, I see a new trend and I like it.
Dear Trail Run, You scare me. I've never run on a trail so why I signed up to so an entire 5K race is beyond me. Please be gentle. My foot and knee are reminding me this week how I'm not getting any younger. . .
Dear new running shoes, You cost a pretty penny, but you sure are pretty.

Dear David, I just love you to pieces and can't wait for all our adventures in the coming weeks!