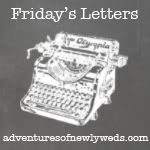 Dear tickle in my throat, What are you doing? You know darn well I do not have time for you to stink around. Not to mention the presence of Peanut prevents me from taking any medications to get rid of you. Please just skedaddle on out of here. Please?!?
Dear winter temps, Well hello there. Wasn't expecting to see you for quite some time. Any particular reason you've arrived so early after doing a great job staying away for so long?
Dear creative minds, HELP! We're trying to think of a creative way to share the gender of Peanut with our families at Thanksgiving (since we are finding out the day before!) but we're having trouble. Any suggestions??
Dear Veterans, Thank you so much for your service. Far too often we get caught up in our worlds and forget that our world is what it is because of your sacrifice. Thank you from the bottom of my heart.