Happy Friday, folks!!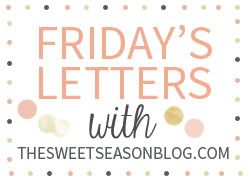 Dear creatures,
Why are you hanging out at our house?? Seriously, go away!
Dear AC Moore,
Please stop sucking me in with all your fun, crafty projects. My budget cannot handle all these new purchases.
Dear Davido,
Thanks for letting me tag along on your trip! I think I could get used to this Colorado thang. . .
Dear world,
Would you visit us if we moved to Colorado? Because this place is pretty stellar.