Happy Friday all! It's a stellar day to link up with Adventures of Newlyweds for an edition of Friday's Letters!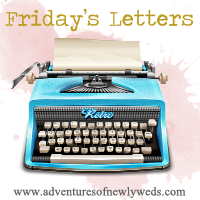 Dear David and Bird, Thank you, thank you, THANK YOU for all your hard work in putting the bed together last night. I know that was the last thing you had in mind for a Thursday evening, but I really do appreciate it!
Dear Daisy, I know you think all these boxes and pieces of cardboard mean we are moving again, but I promise we are not. With that being said you really don't have to follow me from room to room
Dear Olympics, I am SO stoked you are here. Every four years just isn't enough. Your counterpart, the Winter Olympics, are alright but not nearly as awesome sauce as you.
Dear USA Olympic Swim Team, Thank you for this:
Dear summer, What did I do to you? Why are you flying by so fast?? How about you slow way, way down? What about starting over completely? Think you can handle that? Appreciate it.