Happy Tuesday one and all!
Yesterday
, the oh so sweet Mrs. Robinson at My New Wife Life did a spotlight post on her "bosom buddies". Instead of having sponsors she has bosom buddies! How precious is that? I am honored to fall into that category:-) Following her lead I am going to shine the spotlight on some of the women I really enjoy reading about. . .
First up is Mrs. Robinson!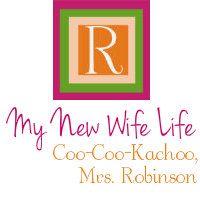 She is a fabulous lady, and fellow follower of Christ, who I have been blessed enough to connect with! She is an awesome encourager who speaks truth like not many others. I so enjoy her stellar, realistic take on life. Stop on by and visit her and Mr. Robinson!
Next we have Ashley!
Blog
/
Twitter
I first met Ashley in college when we were both pursuing careers as middle school teachers. She soon learned she was being called down a different path, but we were able to stay friends. She is one of the sweetest, most genuine people I have ever been fortunate enough to meet. Go say hello to her as she navigates life as a Christian wife!
Third we have Autumn!
Blog
/
Twitter
Autumn is the sweet voice of "Mrs." in the Making! Here this cancer-conqueror learns what it takes to really be a wife. She, too, is very real and the laughs often follow her stories. Be sure to check out her corner of the internet!
Next up we have Adrienne!
Blog
/
Twitter


This sweet lady is full of passion for her community! Her blog often highlights some of her favorite things, including delicious food. I bet you can figure out why I enjoy her so much:-) Say hello and be prepared to get hungry.
Fifth we have Alison!
Blog / Twitter
This sweet girl is a fellow teacher, crafter, Follower, and newlywed! Wanna guess how we were able to connect? Haha. I really enjoy reading her stories about life on the other side of the US. Be sure to show her and her hubby some love!
Last but not least we have Melody!
Blog / Twitter
I connected with this sweet girl through my sister, who attended Appalachian State with Melody. I love her enthusiasm for life and enjoy reading about how she is figuring life out as a newly-graduated twenty-something!
Interested in swapping buttons?? Shoot me an email, I'd love to chat:-)