While the hubby and I are away relaxing with his family on the beach this lovely lady will be posting for me today! Be sure to stop by and say hello to Alison at the Life of Two SoKools!
Why hello The Merry Mrs. Mobley readers! I'm Alison and I blog over at the
Life of Two SoKools
. I'm stoked to be over here guest blogging while she is out vacationing. Have I mentioned how awesome Lauren is for having me?
Of course YOU knew this already.
Just like Lauren and her husband, I am a newlywed. My husband and I have been married for a little over a year now, how did that happen so fast?!

One of the things we love to do together is get outside. Being in the Pacific Northwest it can be a pain in the butt sometimes (no thanks to all this rain), but the bad weather just makes getting outside even more beautiful and enjoyable.
Hiking
We love hiking. One of our first dates was hiking up this crazy hill out in Eastern WA to go stargazing. I still have no idea how I managed to pull that off. Thanks dating jitters!
Anyways, I love getting outside for a hike. What better way to explore God's beauty?! Our bookcase is full of hiking books for this area (and a couple for Kauai, California, and Oregon).
Backpacking
I was introduced to backpacking by my husband and his family when we first started dating. I actually never thought about it before I started dating him. Now, however, I love it. I may have said that hiking was a great way to explore God's beauty, but I think backpacking is one of, if not, THE best ways to see what God has given us.
Unplugging and jumping out in the middle of nowhere to go camp is such an awesome feeling. The world seems so much bigger (and peaceful) when you're out there. I know it's not for everyone, but if you enjoy hiking and camping, I highly recommend trying it out at least once.
Kayaking/Canoeing
The day Nick proposed to me, we went kayaking on Seattle's Lake Union. It was incredible. Not to mention an intense workout.
You don't have to work really hard to kayak/canoe. Take your time. Being out in the water is so much fun (just don't let your fear of dark/deep water get to ya. I'm telling you, I hate dark water)
We recently acquired a free canoe from a relative and while it's not the best in the world, we love it!
Biking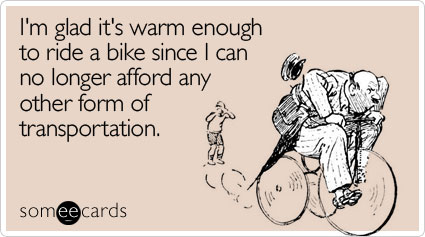 My husband is a crazy man. He bikes to and from work almost everyday. That's 12 miles each way. I admire him for it. I, on the other hand, am still a newb with biking. I wish I could get as into it as he does.
Living in a small town (or any town for that matter) makes having a bike so nice, though.
Walking/running with your favorite companion
Need I say more? I love my dog (who unfortunately doesn't live with us right now), and taking him out for a walk is calming and relaxing. Even if he isn't a great walking dog. He likes to lead too much.
On that note, running/walking with your significant other is a great activity to do. My husband pushes me so much when we go out. I may get really frustrated during, but afterwards I'm so grateful. It's such a great time for us to talk and do something together that we can do no matter where we are.
Sitting outside while blogging
Why not, right?!
This also goes for sitting outside and reading. One of the most relaxing and feel-good activities ever.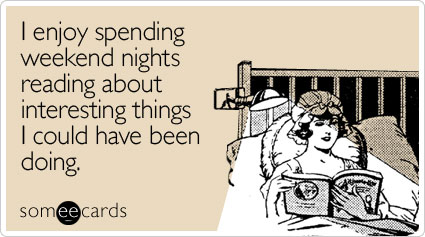 Those are just a few ways that we get outside when there's tolerable weather :) Are there other ways that you get outside? My husband and I want to try paddle-boarding someday. Maybe that will be added to our list eventually... I can dream about owning a paddle board can't I?
Thanks again Lauren for hosting me and thanks to all of you for listening (or reading in this case)!


Many many thanks to this lovely lady for stopping by!