Happy Friday, folks!!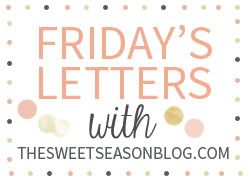 Dear Netflix,
Thank you for the addition of Season 5 of Mad Men! I've been on the edge of my seat since I finished Seasons 1-4 last year. See what you can do about being speedy to post Season 6.
Dear Davido,
Are you ready for some Spring cleaning?? Casa de Mobley is going be sparkling and fresh inside and out. Get excited!
Dear Mother Nature,
Now we're talking! These days of high 70's and low 80's are FAB! Moods have perked up and attitudes have changed for the better. Keep this kind of weather around and the world might learn to get along!
Dear farm box,
Welcome back! I am super excited to see all the goodies you will bring us this Spring/Summer. If this first week is any indication, the Mobleys are going to be very happy (and healthy!) campers: