Happy February Friday!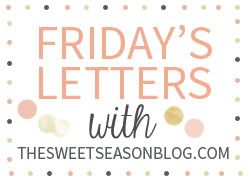 Dear scratchy throat, Why, oh, why are you still here? Three days of this mess is more than enough. Want to vamoosh?
Dear post office, Why are you making it so difficult for me to get a passport? I know I shouldn't have waited this late in the game to apply for one, but not accepting appointments for the next month? To quote Michelle Tanner, "how rude!".
Dear cruise, We are very excited to set sail and soak up some sun. Only six and a half weeks until we depart!
Dear Francis Coppola, Thank you for creating such a fantastic film rendition of S.E. Hinton's The Outsiders. My students and I have thoroughly enjoyed seeing a baby Tom Cruise and baby Patrick Swayze (among others) fight for their freedom to be Greasers!
Dear David, I guess great minds think alike, huh? Too bad you were more prepared and beat me to the presentation of it!
Please note HIS version is made up of healthy, organic granola bars. HER version is made up of sweet treats.