Every girl has her emergency go-to products. The ones she couldn't possibly live without and would have to replace if she went on a far off trip and happened to forget one or two (been there, done that, stopped at Target). Here are a few of my must-haves!
I've searched high and low for the perfect mascara, and I think I've finally found it! It lengthens and adds volume without adding a lot of weight. Not to mention, there is no clumping! The fact that David's aunt is a Mary Kay rep is an added bonus:-)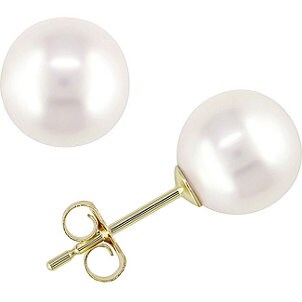 Every Southern belle knows that pearls are the perfect complement to any outfit. I can put mine on with a fancy party dress or to wear with my ball cap running errands. Regardless of what I wear them with they add a classy component to everything I wear!
I've been using this stuff since high school, and there is no hope of getting me to switch! Everyone wants to perfect light moisturizer with SPF, and it's here. I feel my skin absolutely glow whenever I put it on. It evens out my skin tone and makes my face baby soft. Couldn't be happier!
Lip balm is something else I've searched high and low for in my lifetime, so when The Momma introduced me to Burt's Bees I knew there was no going back. It protects and soothes my chapped lips without a lot of weight.
Another great product The Momma introduced me to! Aren't mommas just the best?? This is a great face wash for all skin-types, especially my combination skin. It removes my makeup and cleanses my skin without a lot of lather. Not to mention, my skin doesn't dry out! Score!
What are some of your go-to products??