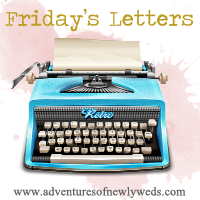 Dear June 8, What is taking you so long???
Dear new treadmill, I am stoked about your addition to the workout fam. I am hoping you will be kinder to my feet and ankles than your predecessor. Your awesome auxiliary input will make watching Mad Man that much more awesome. Now if only I could get back in shape as easily as your manual promises. . .
Dear Harris Teeter, As I was wandering the aisles the other day I stumbled upon an interesting frozen treat-"Sweet Tea Ice Cream". I'm not quite sure what to make of it. I'm intrigued, yet not intrigued enough to buy it. Perhaps if you put it on sale I may be a bit more ambitious. . .*hint*hint*
Dear students, I really enjoyed reading your "letters to future selves". It was neat to see what some of you wanted to remind yourself about this year. I hope all your dreams for life come true!
Dear 50 Shades of Grey, Why do you have to be only three books long?? I wanted so badly not to enjoy your crazy but I just couldn't help it. The ever-changing moods of Mr. Grey coupled with Ana's stubborn attitude made for a good read. How about you continue the story with a fourth book? I'm pretty sure there would be a gazillion dollar profit from it, and who doesn't love that?
Dear Suzy Subaru, My how awkward your one cup holder is. About the only thing that fits in there is a grande-sized drink from Crackbucks. How convenient. Who knew cup holders would be such an important asset in life? I resolve to make sure my next car has more cup holders than you.
Please excuse my disgustingly dirty car. She needs a visit to the spa.